The Lydden Bell 2015 © all rights reserved
81 Canterbury Road
Lydden
Kent
CT15 7EX
01304 830296
jay@thelyddenbell.co.uk




Pictures used for illustration purposes only



WHITE WINE
75ml 250ml 75cl
Jack Rabbit £3.70 £4.80 £12.50
Sauvignon Blanc - Chile
A fresh and crisp wine with delicious fruity flavours of lime and peach. If you like your Sauvignon Blanc light and zesty, this wine is ideal.
Jack Rabbit £3.70 £4.80 £12.50
Pinot Grigio - USA
Vibrant dry white wine with crisp citrus notes and flavours of fresh apple.
Serle Noir - Viognier £14.00
France
Lively & powerful nose of apricots, ripe peach and exotic fruits. Refreshing crisp acidity on the palate and a long lingering finish.
Lourensford £18.00
Chardonnay - South Africa
Lemon, lime and orange notes with subtle creamy
butterscotch nuances. Perfectly balanced, refreshing, finishes light and creamy.
Laroche Chablis - France £25.00
Brilliant yellow colour. Crisp, fresh and mineral aromas. Refreshing, smooth and harmonious with notes of apple and pear.
Sancerre Blanc La Cote £26.00
Blanche Eric - France
The grape variety used is Sauvignon Blanc, meaning that Sancerre is light and refreshing with grassy and gooseberryaromas and flavours.
Rosé Wine
Jack Rabbit £3.70 £4.80 £12.50
White Zinfandel - USA
A lively and fruity White Zinfandel. Reminiscent of fresh Summer pudding.
D'Avento Pinot £3.80 £4.90 £13.00
Grigio Rosé - Italy
Seducing aromas of strawberry and raspberry, along with a touch of fresh ginger. Vivid and well-defined wine with refreshing acidity.
Bin Taste
1 1
2 3
3 1
4 1
5 1
6 2
7 5
8 1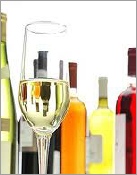 RED WINE
75ml 250ml 75cl
Jack Rabbit £3.70 £4.80 £12.50
Merlot - USA
A lively and supple red wine, with crushed berry fruit aromas and flavours of ripe plums and berries.
Côtes du Rhône £3.90 £4.95 £14.00
François Bour - France
Vibrant dry white wine with crisp citrus notes and flavours of fresh apple.
Deakin Estate £16.00
Shiraz - Australia
Rich with dark berry fruits and plum, the palate is enhanced by the medium tannins and good length.
Fleurie La Cerisaie £23.00
Mommessin - France
Made from the Gamay grape, it is a light, fresh and fruity style of wine with lots of juicy, strawberry flavours.
Castillo de Clavijo £25.00
Reserva - Spain
Aromas of red fruit and some pepper. A medium bodied wine with interesting earthy and spicy wood flavours.
Fizz
75cl
Primo Prosecco £17.00
Italy
Its colour is brilliant pale straw yellow, the bouquet has a delicate floral/fruit quality, slightly savoury and smooth.
Taittinger Brut Reserve £50.00
Non Vintage
France
Dry, light and elegant. Taittinger is famous for the high percentage of Chardonnay in the blend.
Veuve Clicquot £65.00
Vintage Reserve - France
Vintage champagne is rich flavoursome and fruity, and Clicquot make one of the best.
Desert Wine 50ml 75cl
Yerring Station £2.50 £14.95
Late Harvest Reisling
Luscious honey with freshness of Nashi pear and lemon, complemented by great natural acidity and minerality.
Bin Taste
9 C
10 B
11 C
12 A
13 E
14 1
15 1
16 1
17 4